U.S. Apple Stores Opening at 8 a.m. for iPhone 4S Launch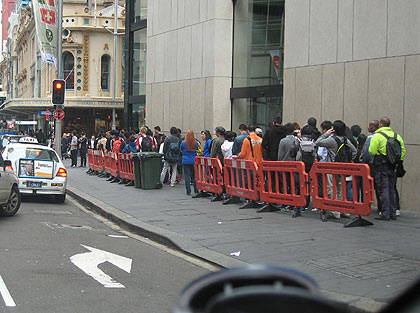 Today Apple has begun selling its new iPhone 4S in seven countries: US, Canada, UK, France, Germany, Japan and Australia. The device is available in two colors (black, white) and three storage sizes (16 GB, 32 GB, 64 GB).  As usual, lines have begun forming near Apple Stores worldwide and Apple Store employees were pulling overnight shifts to put up new displays and promo materials for the iPhone 4S launch.
The Japanese launch was hampered by registration slowdowns from Softbank, according to the Wall Street Journal:
The launch of the iPhone 4S in Japan was interrupted when Softbank – the main service provider for Apple products in the country—suffered a server glitch that temporarily suspended sales nationwide. A company spokesman said the servers were unable to process registration information.
Apple has already received more than one million pre-orders for the iPhone 4S. Analysts are predicting that weekend sales will exceed the iPhone 4 which were sold 1.7 million units its opening weekend. Estimates range from 2 million to 4 million.

Leave a comment