Сегодня плеер GPlayer для iPhone и iPad раздается бесплатно


UPDATE: акция закончилась
Универсальный плеер для iOS, GPlayer, сегодня доступен абсолютно бесплатно. Он работает как на iPhone, так и на iPad. Поддерживаются практически все форматы видеофайлов. Предыдущая цена приложения была $2.99.
GPlayer можно скачать в AppStore здесь.
GPlayer is FREE today with AppGratis!

You wish you could play any video file on your iPhone/iPad, no matter its format? that's why we made GPlayer.

★ Follow our Twitter @GinkgoTech to get the free code when new version released.

★ GPlayer was honored as "app of the Week" in the Appcast.

★ Supported File Format Extension

✔ XVID/DIVX AVI, WMV, RMVB, ASF, H264, MKV, TS, M2TS... most of all movie file formats.
✔ MP3, WMA, WAV, OGG, FLAC... most of all audio file formats.
✔ SMI, ASS, SUB, SRT, TXT... most of all subtitle file formats. [build in subtitle is also supported]

★ Extra Features

✔ USB Sync: Use itunes to fast sync movies to GPlayer.
✔ WIFI Upload: Upload movie even you don't have the cable.
✔ File Management: Support New/Rename/Cut/Paste/Delete.
✔ Movie Thumbnail: Easy to find the movie you want to view.
✔ Different Play Mode: Support Loop off/Loop One/Loop all.
✔ Screen Lock: View your movie even on the bed.
✔ Dynamically Menu: Dynamically choose audio/subtitle channel and encoding method.
✔ Gesture support: Easier way to do seek while playing the movie.
✔ Resume Function: Don't worry about closing your application suddenly.
✔ TV Out: Both cable TV out and AirPlay are supported.
✔ iTunes Backup: By default, we will not backup media data when you do iTunes sync or iCloud backup, and you can't see the files in iTunes, you can enable it in the settings page to backup your media data.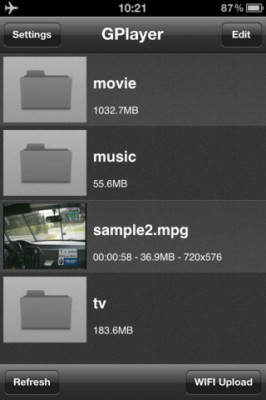 Оставить комментарий, читать комментарии [6]