Новости с тэгом 'MobileMe'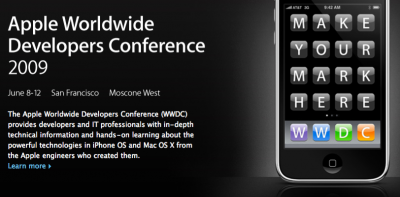 Apple анонсировала дату для ежегодной World Wide Developer Conference 2009: июнь с 8 по 12.
В прошлом году Стив Джобс рассказывал про iPhone 2.0, MobileMe и iPhone 3G. Что же будет интересного в этот раз? Несомненно, много про прошивку 3.0. Может быть, iPhone третьего поколения? Snow Leopard? Mac Netbook?
Как всегда, WWDC пройдет в Moscone Center West в Сан-Франциско. Вот что говорит Apple:
iPhone OS is the world's most advanced mobile operating system, offering you a revolutionary platform for designing innovative mobile applications. Learn every aspect of iPhone development — from the powerful tools and frameworks to enhancing your application with the unique features of iPhone OS.
via theiphoneblog

Оставить комментарий

Сегодня Twenty08 выпустила MobileChat для iPhone и продает ее через AppStore. MobileChat (ссылка в iTunes) позволяет соединяться с различными IM сервисами:
AIM/ICQ/.Mac/MobileMe
Windows Live/MSN
Yahoo
GTalk
Jabber
Приложение уже получило хорошую известность среди пользователей iPhone, она доступна в Installer/Cydia для старых прошивок (до 1.1.4). Стоимость же в AppStore: $2.99.
Видео от разработчиков:
PS: Мне лично гораздо больше нравится Agile.

Оставить комментарий