News tagged 'tethered'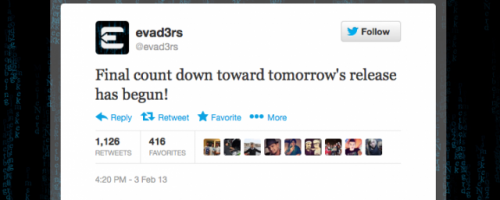 Yesterday the Evad3rs Team have announced via twitter and on their website that the evasi0n untethered jailbreak is in final testing and preparation and will be released today.
Final count down toward tomorrow's release has begun!
The Evad3rs website indicates that current progress is 96%:

Leave a comment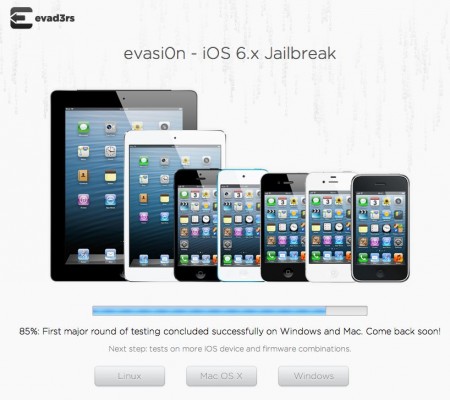 Evad3rs team has recently announced that the first round of testing of the evasi0n untethered jailbreak has been completed successfully.
85%: First major round of testing concluded successfully on Windows and Mac. Come back soon!

Leave a comment, read comments [10]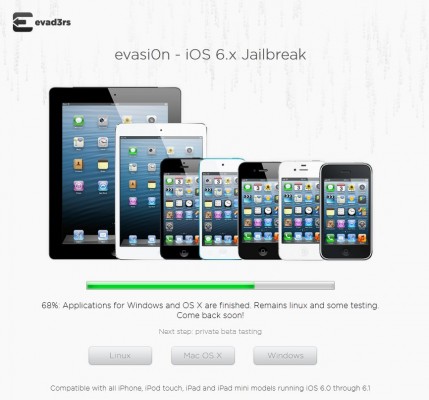 The Evad3rs Dev-Team has launched an official website for the jailbreak of iOS 6.1, called 'Evasi0n'.
The official evasi0n 6.1 jailbreak: http://evasi0n.com -- Check regularly for updates! #evasi0n
The site currently indicates the following status:

Leave a comment, read comments [8]


Hacker planetbeing corfirmed, that untethered iOS 6.1 jailbreak will be relaeased quite soon.
In terms of release date, we're aiming for approximately a week out, but it's possible it will come sooner or later than that.

Leave a comment