News tagged 'MacBook Pro 15'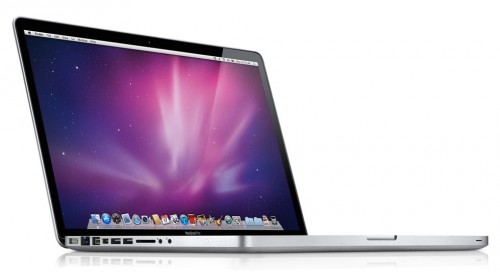 15-inch MacBook Pro: this model comes with Quad-core Intel Core i7 processor, 4GB RAM and Intel HD Graphics 3000 + AMD Radeon HD 6000M graphics. The graphics switching will work exactly like the previous models - it automatically switches between the GPU and IGP depending on what you're doing.
The cheapest $1,799 model has a 2.0GHz quad-core Core i7 processor, Intel HD Graphics 3000 + AMD Radeon HD6490M graphics with 256MB of GDDR5 memory and a 500GB hard drive. The $2,199 model has faster 2.2GHz Core i7 chip, AMD Radeon 6750M graphics with 1GB of GDDR5 memory and 750GB hard drive.
The display resolution is 1440x900, upgradeable to 1680x1050 high-resolution glossy or antiglare.

17-inch MacBook Pro: This is a powerful 17-inch macbook pro. It has the same specs as high-end 15-inch MacBook Pro. For just $2,499 you get that 2.2GHz Core i7 processor, AMD Radeon 6750M graphics and a 750GB hard drive. Resolution is 1920x1200 with antiglare option.
17-inch MacBook Pro has 3 USB ports and ExpressCard/34 slot compared to 2 USB and SDXC card slot in 15-inch version.

Bor both 15 and 17 inch models you can customize it with 128GB, 256GB and 512GB SSD and increase RAM to 8GB. Different HDD options are also available - 500Gb (5400 or 7200 rpm), 750Gb (5400rpm). You can also upgrade to 2.3GHz quad-core Intel Core i7 with 8MB shared L3 cache. Both come this Built-in FaceTime HD camera.
More photos:

Leave a comment


As we reported earlier, today Apple unveiled new 13", 15" and 17" MacBook Pros. 13-inch notebook will be offered in two configurations: one with an Intel Dual-Core 2.7 GHz i7 processor and 500GB HDD for $1,499 and another with an Intel Dual-Core 2.3 GHz i5 processor and 320GB HDD with price of $1,199. In other hardware specifications, which are listed below, they are the same:
13.3-inch LED-backlit glossy widescreen display with native resolution of 1280x800.
Intel HD Graphics 3000 that sports 384MB of DDR3 SDRAM shared with main memory;
4GB of DDR3 RAM @ 1333 MHz with two other SO-DIMM slots to support up to 8GB;
Built-in 63.5-watt-hour Li-Pol battery that allows to surf the web wirelessly for up to 7 hours;
8x slot-loading SuperDrive;
FaceTime HD camera;
Thunderbolt port, Gigabit Ethernet port (RJ-45), FireWire 800 port, 2 USB 2.0 ports, Audio in/out, Kensington lock slot, SDXC card slot;
802.11n Wi-Fi, Bluetooth 2.1 + EDR, 10/100/1000BASE-T Gigabit Ethernet support;
2,04 kg weight.

Leave a comment