News tagged 'nudity'


Hugh Hefner, Playboy founder, announced on Twitter today that the full catalog of Playboy Magazine, from its very first issue in 1953 to its latest one, is coming to the iPad this March. Moreover it will be uncensored. The magazine delivery may be related to Apple's recent plans to open up subscription billing for magazine and newspaper content. Such debut also may mean that Apple has relaxed or removed their current restriction against nudity. Though, it's doubtful that Apple allows mature content to overflow App Store. The company is likely to be testing a new section. There are no further details on the iPad version of the magazine.

Leave a comment


On Tuesday, December 8, the official Playboy iPhone app hopped into the App Storу. Everybody can buy it for just $1.99.
The app is a scaled-down iPhone version of the largest selling men's magazine, Playboy, and includes portions of the text from the following well known features … Playboy Interview, Playboy Advisor, 20 Questions, Party Jokes, Fashion and more.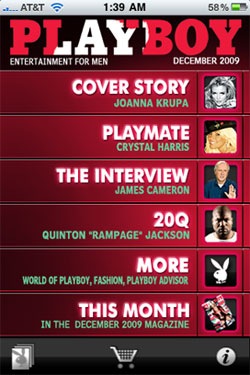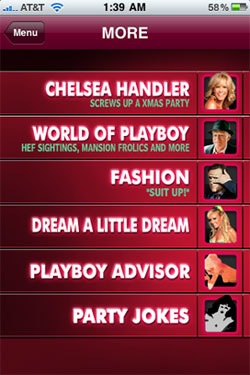 However do not expect to see everything you can find in the magazine. Apple does NOT allow nudity in the App Store. So the application includes the Playmate's intro, data sheet, preview pictures and exclusive behind the scenes preview video. Theresa Hennessey explained: "The pictures are all non-nude or cropped, either from the magazine pictorial or from the Playmate's Playboy.com pictorial."

Read the rest of this entry »

Leave a comment


This is the first iPhone application to contain bare boobs. The $1.99 app for iPhone and iPod touch only showed girls in lingerie and bikinis until now.
This is not just an application that downloads softcore content from the Web, bypassing Apple's censorship. There is no censorship here, as this is truly an Apple approved app "rated 17+" for "frequent/intense sexual content or nudity" and "frequent/intense mature/suggestive theme."
According to developers: "We uploaded nude topless pics today. This is the first app to have nudity".
The app is avaliable via AppStore (link) for $1.99.

Leave a comment, read comments [1]