News tagged 'Fuzzyband'

Fuzzyband is an application that can downgrade the baseband for iPhone 3G. Recently it has been updated to include the support for firmware 3.1.3 baseband 05.12.01. It works only with bootloader 05.08 (early iPhone 3G).
Why do users need to downgrade the baseband? The answer is simple: if they accidentally upgraded the new firmware and need to run unlock software (blacksn0w and ultrasn0w). Unlocked iPhones do not need Fuzzyband. iPhone 3GS users cannot downgrade baseband with Fuzzyband.
Fuzzyband is available for jailbreaked iPhones in Cydia (repository BigBoss, category "System" ).

Leave a comment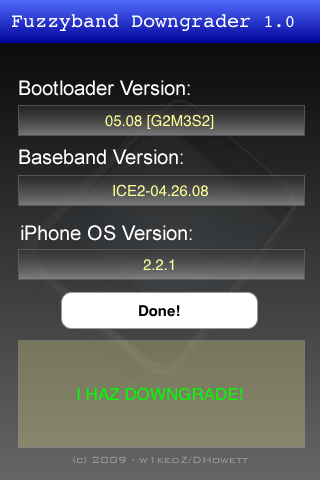 3G Fuzzyband Downgrader is now available in Сydia. This should be used instead of 3G Baseband Downgrader for downgrading the baseband on phones containing the 5.8 bootloader.
Benefits over original downgrader:
Does version checking, will only downgrade if phone is eligible
Downgrades all versions of baseband from 2.30.03 to 4.26.08 (3.0 beta5)
Reports current bootloader version on screen
The original downgrader was a possibly dangerous app, as it relied on a failed downgrade to decide whether downgrading was possible. Anytime you run BBUpdaterExtreme you are potentially doing damage to the modem, so the version checking in this app minimizes the chances of accidently corrupting the baseband.

Leave a comment