News tagged 'Mobile Metrics report'

Today mobile ad firm AdMob has released another Mobile Metrics report that consists of information about the software and hardware that had been used by Apple's handsets owners in March.
The study reveals that only 2% of all Apple devices with iPhone OS are first-gen iPhones. But it is important to notice that since the first sale of iPhone OS-based device Apple sold over 85 million of its worldwide. If we'll take the period between June 2007 and July 2008 (time when iPhone 3G was shipped), then it turns out that company sold 6.1 million of iPhone 2G, which is approximately 7% of the total sum of handsets that were sold.
Fortune Brainstorm Tech journalist Philip Elmer-Dewitt continues to count and then sums up:
"If 7% of those iPhone 1Gs are driving 2% of AdMob's traffic that suggests that nearly one in three is still ticking - and visiting the Web."
Obviously, the popularity of the first-generation iPhones will be further reducing without iPhone OS 4.0 support.
AdMob also found that the most popular iPhone in March 2010 was iPhone 3GS, which generated 39% of all traffic. This is much higher result than 9% in September 2009.
Other information can be seen above on the graphs.

Leave a comment

AdMob has released their latest October 2009 October Mobile Metrics report with details on devices and platforms requests ads from AdMob network. The iPhone and iPod Touch platform (iPhone OS) has a comfortable 50% share of worldwide traffic and 55% of US traffic. In terms of top handset models, Apple's iPhone accounted for 22.4%/24.1% (up 5.5%/5.2%) and iPod touch for 9.8%/11.4 (up 1.4%/2.3%).
Apple nearly reached the milestone back in May when it hit 49%, but the company's share temporarily dropped back over the next several months before beginning a sharp climb again in September.
You can read the full report in PDF here.

Leave a comment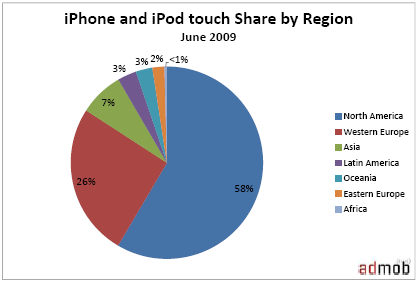 AdMob published it's June report, showing detailed statistics about smartphone market. As for iPhone 54% of iPhone OS devices are currently in the US; however, this number has slowly declined from 61% in the last six months, implying that international users are growing faster than those in the US. Following the US, the United Kingdom, Germany, and France each have over 5% of users. As a region, Western Europe has a 26% share of iPhone and iPod touch users.
Based on Apple guidance, the company has shipped 26.4 million iPhones and approximately 18.6 million iPod touches to date.
Here is a table, that shows the number of iPhones by country: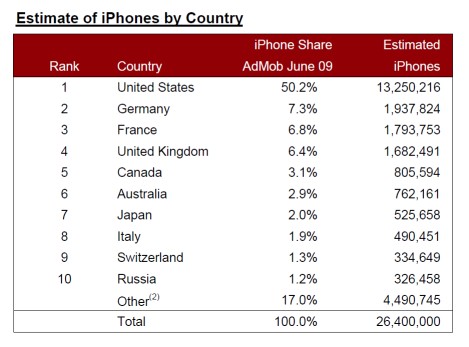 Here's some interesting statistics about smartphone traffic. Sounds like Apple is looking quite good in both the US and the rest of the world:

Leave a comment