News tagged 'car radio'

Griffin has produced a new accessory for the iPhone is capable of transmitting the FM signal. It's called iTrip.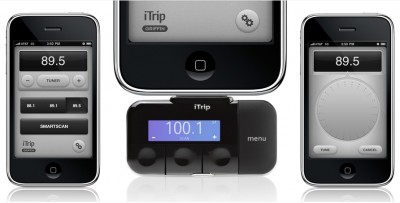 This is one of the first cases of iPhone accessories controlled by an app. iTrip is used in conjunction with a free application called iTrip (AppStore link).
Operation is very simple: connect the Dock accessory, run the iTrip app, click on the "SmartScan" to automatically find the best frequency. Now we can play the music on our iPhone and transmit it to the car radio or home stereo without any problems.
The new iTrip is really well done and is compatible with almost all iPod / iPhone. Costs $50.

Leave a comment

IPhone and IPhone3G do not support A2DP technology. Now they do
"A2DP is designed to transfer a uni-directional 2-channel stereo audio stream, like music from an MP3 player, to a headset or car radio." - Wikipedia.
This device will work on iPhone, iPhone 3G, iPod nano, iPod Color and iPod Mini. The price is $62 at brano.
Specifications:
Bluetooth Version: Version 2.0 compliant, Class II
Bluetooth Support profile: A2DP, AVRCP
RF Frequency: 2.4GHz / 79 Channel / AFH
Coverage Range: Bluetooth standard 33 feet (10 meters)
Power Supply: DC 3.3V

Leave a comment