News tagged 'iPhone OS SDK'

Developers have found references to multitasking in iPhone OS SDK files. The below mention of a "multitasking dialog box" is just one example: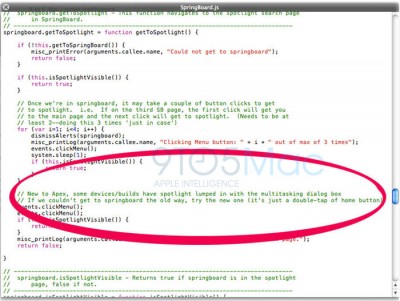 Actually many different Apple's built-in applications already multitask. For example, phone.app, iPod.app, Safari.app, Mail.app, etc. so theoretically, the dialog box in this case could refer to current functionality.

Leave a comment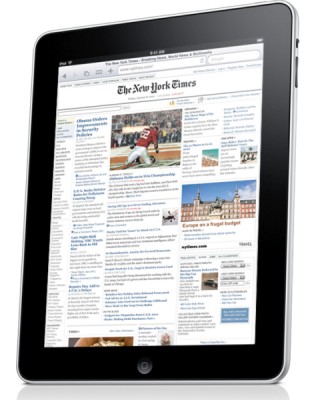 Apple's finally announced the iPad (Apple Tablet). It is perfect for tasks like browsing, email, photos, e-books and videos. It's a half-inch thick and weighs just 1.5 pounds (680g), with a 9.7-inch capacitive touchscreen IPS LCD display and it's running a custom 1GHz Apple "A4" chip developed by the P.A. Semi team. The 10-hour battery life and a month of standby is quite exciting.
There will be devices with 16, 32 and 64GB. All iPads will get a 30-pin Dock connector, a speaker, a microphone, Bluetooth, 802.11n WiFi and optional 3G, as well as an accelerometer and a compass. There's also a keyboard dock, which connects underneath in the portrait orientation. iPad supports up to 1024x768 VGA out and 480p composite out through dock adapter cables. There is a camera attachment kit that lets you import photos from your camera over USB or directly through an SD reader.
The device is managed by iTunes, just like the iPhone and iPod Touch. iPad can run iPhone apps: either pixel-for-pixel in a window, or pixel-doubled fullscreen. Developers can also target the new screen size using the updated iPhone OS SDK, which is available today.
The 3G version runs on AT&T and comes with new data plans: 250MB for $14.99 and an unlimited plan for $29.99 a month contract-free. Activations are handled on the iPad, so you can activate and cancel whenever you want. Every iPad is unlocked (!) and comes with a GSM "micro-SIM".
The price starts at $499 for 16GB, 32GB for $599, and $699 64GB. Adding 3G costs a $130 per model, so the most expensive model (64GB / 3G) is $829. The WiFi-only model will ship in 60 days, and the 3G models will come in 90.
UPDATE: The 3G version will also have A-GPS.

Leave a comment