News tagged 'IQ Routes'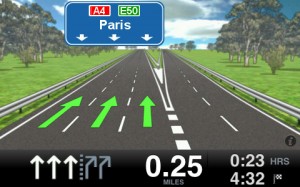 TomTom navigation application updated to version 1.2. Added features include updates to maps and IQ Routes, advanced lane guidance, text-to-speech, integrated iPod player support and support for the iPod Touch and first-generation iPhone 2G.
To use the app on iPod Touch and iPhone 2G, TomTom's car kit is required. This is due to the fact that both devices lack an integrated GPS receiver. TomTom's car kit is a cradle which contains a GPS module, integrated speaker, charger, and line out. It is not required when the TomTom app is paired with the iPhone 3G and 3GS. The cost for the kit without the app is $119.95.
Full list of what's new in 1.2:
Improved search and route summary screens
Updated map from v8.30 to v8.35
Updated points of interest database
Updated IQ Routes database with millions of new measurements
Added Advanced Lane Guidance in both portrait and landscape mode
Added Text-to-speech in English US, English UK, English Australia, French Canada, Spanish Latin America
Added Help Me! emergency menu
Added iPod player support
Added support for original iPhone and iPod touch (all models)
The TomTom app is available in App Store for $49.99-$139.99 (link). Price depends on the map coverage. The highest price is for TomTom Western Europe. US & Canada costs $99.99. The cheapest version is for Hong-Kong - just $49.99.

Leave a comment