News tagged 'Sygic Mobile'

MacWorld compared nine different iPhone GPS Navigation applications:
AT&T Navigator

CoPilot Live N.A.

GoKivo GPS Navigator

iGo My way 2009 (N.A.)

Magellan RoadMate 2010 N.A. Ed.

MobileNavigator N.A.

MotionX GPS Drive

Sygic Mobile Maps U.S.

TomTom U.S. & Canada
Prices ranged from $4/month to $100 to own. Overall the AT&T Navigator ($10/month) and MobileNavigator ($90) received the best ratings.
Here are some results in tables: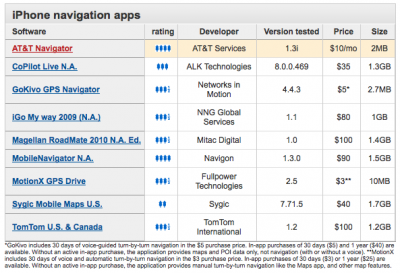 Leave a comment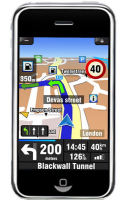 Sygic is an offline navigator for iPhone and should be approved soon in the AppStore. The maps are from TeleAtlas, the navigator provides voice guide, search for POI etc. This is the first video of Sygic Mobile 2009. The application is presented at CeBIT. Rumors say it will cost around $100...

Leave a comment