News tagged 'Magellan'

MacWorld compared nine different iPhone GPS Navigation applications:
AT&T Navigator

CoPilot Live N.A.

GoKivo GPS Navigator

iGo My way 2009 (N.A.)

Magellan RoadMate 2010 N.A. Ed.

MobileNavigator N.A.

MotionX GPS Drive

Sygic Mobile Maps U.S.

TomTom U.S. & Canada
Prices ranged from $4/month to $100 to own. Overall the AT&T Navigator ($10/month) and MobileNavigator ($90) received the best ratings.
Here are some results in tables: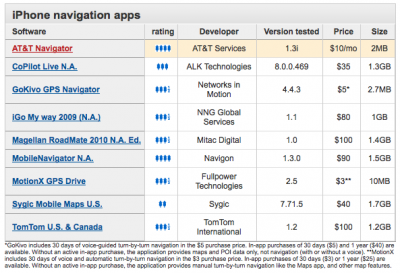 Leave a comment

MSNBC recently spoke with several GPS manufacturers about their plans to develop a turn-by-turn GPS solution for the iPhone. Such a program is likely some months away. Several of the 'bigs' in the business — TomTom, Garmin and Magellan — are interested.
"We have made our navigation system run on the iPhone; it looks good and works very well," said Dutch-based company TomTom, in a statement to MSNBC.com. "We will have to look more closely to Apple's strategy before we can say more about what kind of opportunities this will bring us,:".
"We're always looking at new phone platforms to expand into for Garmin Mobile, but we don't have any announcements regarding the iPhone at this time," said Jessica Myers of Garmin International. Magellan spokesman Raphel Finelli said the company does "not have immediate plans for this, but we are looking into it."
via macdailynews

Leave a comment