News tagged 'Ultrasn0w 1.2.4'

If for some reason you don't want to use redsn0w 0.9.9 to jailbreak your iOS 5, here is a good alternative utility - Sn0wBreeze 2.8b8. It can perform a tethered jailbreak for iPhone 3GS, iPhone 4, iPad 1, iPod Touch 3G and iPod Touch 4G.
As usual it will preserve your baseband (modem) version for unlock with ultrasn0w 1.2.4 or Gevey Sim.
You can download Sn0wBreeze 2.8b8 here.
UPDATE: Sn0wBreeze 2.8b8 step-by-step jailbreak and unlock tutorials:

Leave a comment, read comments [2]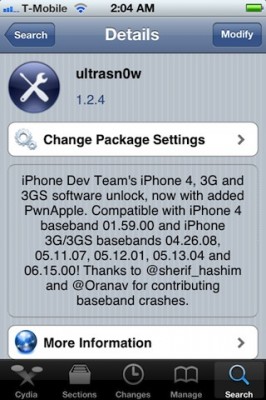 The iPhone Dev-Team has released an update to their UltraSn0w unlock bringing support for iOS 5. Remember that NO new basebands are supported in this release. It only adds support for iOS 5 with old basebands.
Here is the list of supported basebands:
iPhone 4: 01.59.00
iPhone 3G/3GS: 04.26.08, 05.11.07, 05.12.01, 05.13.04, 06.15.00.
If have one of the above baseband version and need unlock you can upgrade to iOS 5 without updating your baseband using RedSn0w 0.9.9b5 or Sn0wBreeze 2.8b8.
Ultrasn0w 1.2.4 is available in Cydia.

Leave a comment, read comments [9]