News tagged '4.2.5'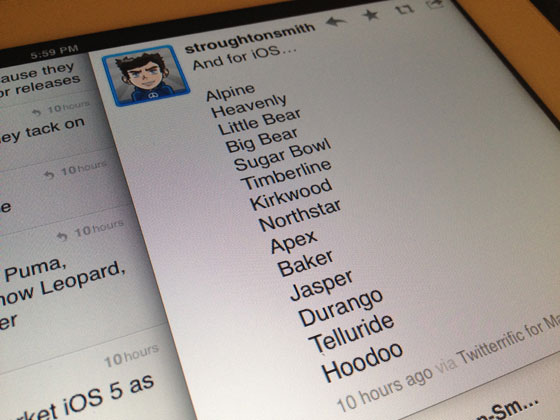 There are many official codenames for operation systems. For example, Mac OS 10.7 is Lion, Android 4.0 is Ice Cream Sandwich. But we have never heard of iOS codenames. TiPB reports that developer Steve Troughton-Smith has revealed what Apple's codenames are for each iOS version. Here they are:
1.0: Alpine (1.0.0 – 1.0.2: Heavenly)
1.1: Little Bear (1.1.1: Snowbird, 1.1.2: Oktoberfest)
2.0: Big Bear
2.1: Sugarbowl
2.2: Timberline
3.0: Kirkwood
3.1: Northstar
3.2: Wildcat (iPad only)
4.0: Apex
4.1: Baker
4.2: Jasper (4.2.5 – 4.2.10: Phoenix)
4.3: Durango
5.0: Telluride
5.1: Hoodoo

Leave a comment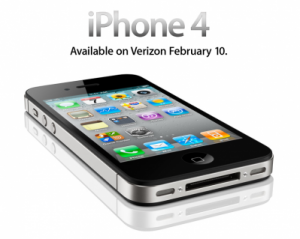 Apple today has posted iOS 4.2.6 for Verizon iPhone on its servers for public download, where it listed as for iPhone 3,3, the identifier for the CDMA version of iPhone 4. The version checks in as Build 8E200. Possibly the firmware was launched for journalists who have reportedly received the devices to write reviews. The Verizon iPhone carried iOS 4.2.5 when it was demoed at the media event introducing the device earlier this month, so it appears that Apple has made some additional tweaks since that time. Those who hoping that iPhone 4 for Verizon would be released with the iOS 4.3 will no doubt be disappointed. Though, it is pretty likely that 4.3 is going to be ready quickly after launch of the device.
Direct link to iOS 4.2.6 for Verizon iPhone

Leave a comment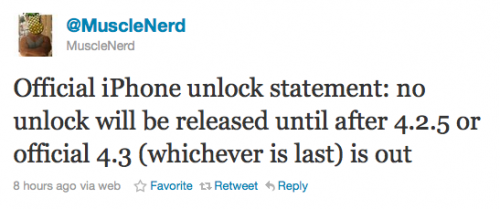 The iPhone Dev-Team has announced via Twitter that they will release new unlock only after release of iOS 4.2.5 or 4.3. It is a little bit surprising and of course disappointing for many but overall in the best interests of the community.
The statement claims: "Official iPhone unlock statement: no unlock will be released until after 4.2.5 or official 4.3 (whichever is last) is out."

Leave a comment, read comments [1]