News tagged 'iTunes 9.2'


Today Apple released new version of iTunes 9.2.1. Here is a changelog:
Disables older versions of some incompatible third-party plug-ins
Addresses minor issues with dragging and dropping items
Addresses a performance issue when first syncing to some devices with iTunes 9.2
Addresses an issue upgrading to iOS 4 on an iPhone or iPod touch with encrypted back-ups
Addresses other issues that improve stability and performance
You can download iTunes 9.2.1 here.

Leave a comment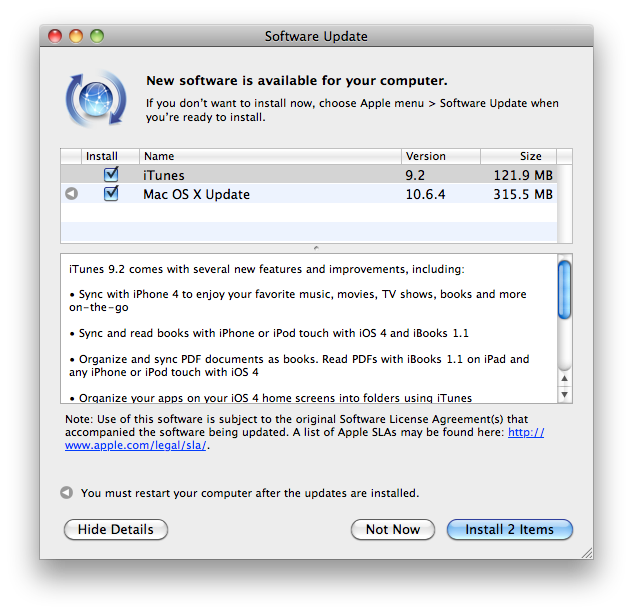 Because of an upcoming iOS 4 and iPhone 4 Apple released new version of iTunes which has a number of significant improvements that listed below:
Synchronizing with iPhone 4;
Synchronizing and reading ebooks with iPod touch or iPhone with iBooks 1.1 and iOS 4;
Synchronizing and reading PDF documents as books in iBooks 1.1;
Organizing apps into folders on iOS 4 home screen via iTunes;
Improved back-up speed while syncing an iPod touch or iPhone with iOS4;
Improved artwork appearing speed when exploring media library.
iTunes 9.2 may be downloaded directly from Apple's Site here or via Software Update in Mac OS X (~102MB) or Windows (~92MB).

Leave a comment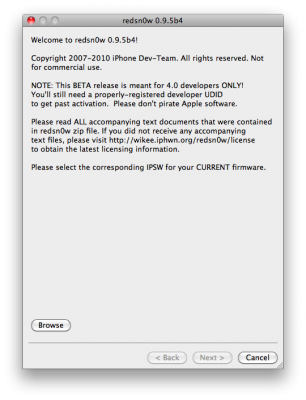 Apple recentrly released new version of iPhone OS 4. it is called iOS 4.0 GM. Here is an update from DevTeam about iOS 4 jailbreak:
For those who can legitimately activate to the iPhone3G 4.0GM seed, the "point to previous IPSW" redsn0w trick works and will jailbreak your 4.0GM. The "trick" is to point redsn0w at the 4.0beta4 IPSW instead of 4.0GM (do this after you've updated to 4.0GM and activated through the new iTunes 9.2 on your Mac). Since the carrier unlocks aren't yet supported at 4.0, don't do this if you use yellowsn0w/ultrasn0w/blacksn0w. Many JB apps are still pretty buggy in 4.0, so again this is mostly useful only for developers of those JB apps.

Note: If you're experiencing MobileSafari crashes, double check that you're running the version at the bottom of this page.

For those without legit iPhone3G 4.0GM seed access, please wait until the full public 4.0 release for updates to the jailbreak tools.
You can download redsn0w 0.9.5.b4 here.

Leave a comment