RedSn0w 0.9.5 Beta4 can jailbreak iOS 4.0 GM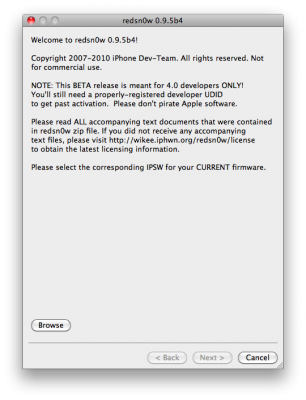 Apple recentrly released new version of iPhone OS 4. it is called iOS 4.0 GM. Here is an update from DevTeam about iOS 4 jailbreak:
For those who can legitimately activate to the iPhone3G 4.0GM seed, the "point to previous IPSW" redsn0w trick works and will jailbreak your 4.0GM. The "trick" is to point redsn0w at the 4.0beta4 IPSW instead of 4.0GM (do this after you've updated to 4.0GM and activated through the new iTunes 9.2 on your Mac). Since the carrier unlocks aren't yet supported at 4.0, don't do this if you use yellowsn0w/ultrasn0w/blacksn0w. Many JB apps are still pretty buggy in 4.0, so again this is mostly useful only for developers of those JB apps.

Note: If you're experiencing MobileSafari crashes, double check that you're running the version at the bottom of this page.

For those without legit iPhone3G 4.0GM seed access, please wait until the full public 4.0 release for updates to the jailbreak tools.
You can download redsn0w 0.9.5.b4 here.

Leave a comment