News tagged 'Snapdragon'

iSuppli has estimated the cost of Nexus One smartphone's parts. The result is $174.15. This amount includes hardware and component costs, but does not take into consideration expenses like manufacturing, software, box contents, accessories and royalties.
The Nexus One's Snapdragon processor, which allows 720p video playback, is estimated to cost $30.50, making it the most expensive component of the phone. The 3.7-inch AM-OLED display is estimated at $23.70. Here is a full list: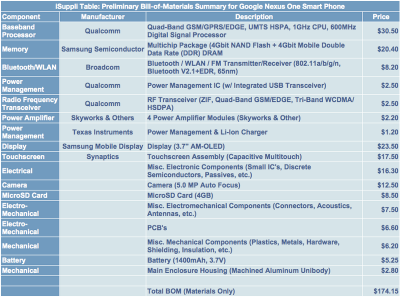 Leave a comment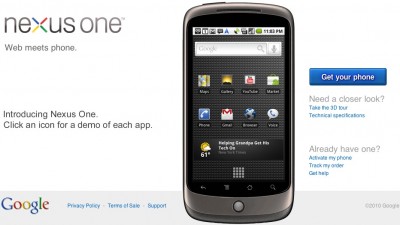 Google today announced the launch of its Nexus One smartphone. It is based on the Android 2.1 operating system and offers 800x480 screen, 5 megapixel camera with flash,  Qualcomm's 1 GHz Snapdragon processor. The Nexus One offers 512 MB of Flash and 512 MB of RAM, and ships with a 4 GB Micro SD card with support for cards up to 32 GB.
Nexus One is initially available from the Google web store in the US without service for $529 or starting at $179 with a two-year contract from T-Mobile USA. In the near future, Verizon Wireless in the US and Vodafone in Europe plan to offer similar service plans.
Here is the full list of hardware and software features:

Leave a comment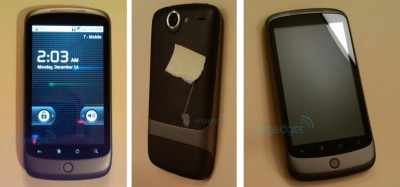 This is the first video hands-on of Nexus One, best known as the first Google Phone to be released in early 2010. In the movie we can see the Android Market, the speed of the processor, quite functional browser, the ability to open documents, and even Google Maps Widget.
Here are some characteristics of the device:
OLED display with capacitive touchscreen
Home Screen renovated with the possibility of using an animated background
Two microphones to reduce background noise during a conversation
The new version 2.1 operating system,
Snapdragon processor
Supports GSM networks
WiFi
Great camera
Virtual keyboard on the screen, but there is ability to use voice to dictate the words
Here is a side-by-side photo of Nexus One and iPhone:

Leave a comment