This is a new pinball game for iPhone called The Deep:

Leave a comment


iBlogeek has released a Mac OX utility called BackToUp that will help everyone back up their device. The program is pretty good and make the backup of:
Contacts
Text Messages (SMS)
Bookmarks and History of Safari
Call History
Calendar
Notes
Bookmarks and History of Maps
General Preferences (ringtone, etc)
Also, BackToUp can:
Create a backup
Restore a device using a backup
Erase backups
Update a backup
You can download BackToUp here.


Leave a comment


YXFlash is a new application that is available in Cydia and includes the codecs to display Xvid / DivX video files . We will not longer need to convert movies into a format supported by Apple. The converted videos do play a bit smoother due to hardware acceleration, but xvid videos are watchable, at least the ones I tested. The player also plays flash content if you have downloaded flash flv videos to your device. It is not a web based flash player, this does not play flash videos embedded on websites. In order to add the videos just upload them using iFunBox or iPhone Browser.
Here is the complete list of formats supported by the complete version:
Flash Video -> .flv
Mpeg4, H.264
Windows Media Video (.wmv)
Xvid/DivX (.avi)
MP4, MP3, AAC and Windows Media Audio
The free version offers support only for MP3 and DivX. You can download the application via Cydia in the BigBoss repository. The full version costs around $10.

Leave a comment

Leave a comment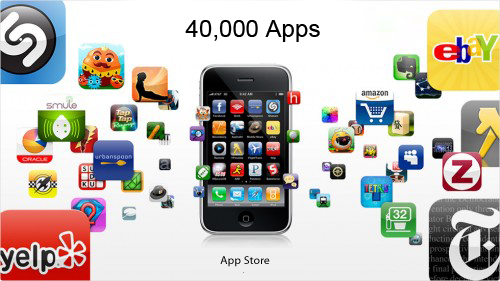 It seems that Apple has reached a new milestone with the App Store. It now has more than 40,000 applications available to download all in 10 months. There is no official news yet, but AppShopper found 43,154 applications of which 40,253 are currently available in the American Store, AppTism instead found 41.611 which we certainly reached and exceeded the 40,000.

Leave a comment

This game will appear soon in AppStore:

Leave a comment


This news comes directly from DataViz. Documents To Go application for iPhone has just been sent to Apple and it is awaiting approval. The software will allow you to view and edit Microsoft Office documents.
The cost should be less than $20.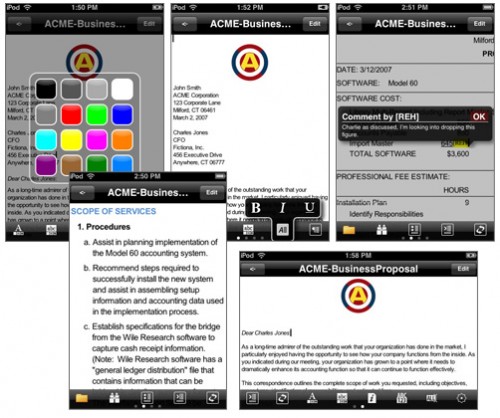 Leave a comment

Leave a comment

Backgrounder is an app that allows a user to run apps in a background. Since the last update the application makes available a process manager to monitor and manage the open applications.
In the new version svn.187 introduced the following changes:
Added the possibility to close / to force the closure / make a respring through a swipe on the applications;
It is no longer possible to initiate the process by the operator lockscreen;
Multiple instances of the processes are prevented
General improvement of the Code.

Leave a comment

Here's a short video that shows to all users (non-developers) that it is simple to use MMS and Tethering on the new 3.0 firmware.
via ispazio

Leave a comment

Apple filed a patent on a new accessory that will run the streaming video from iPhone to your TV. During the streaming user can control playback via a remote controller and the TV Out.

Leave a comment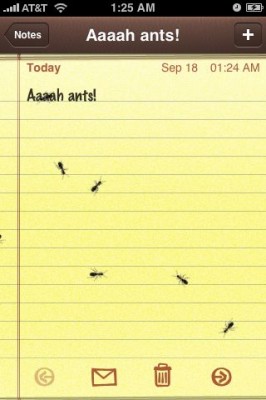 Once again we have the ability to have ants running on our iPhone. This little toy was available on firmware 1.1.x. Now the developer has update the code to support firmware 2.x. If you don't remember ants take a look at the video below. This toy is easy to use. As you might remember you open the app and activate the ants. Then open your notes and watch the ants fill the screen. You can smash them or shake your iPhone to remove them. Ants is available in Cydia for jailbreaked iPhones.


Leave a comment

The video shows iPhone-powered R2D2:

Leave a comment

The mobile Yandex.Traffic Lite application allows monitor road traffic in real time for efficient route planning. The application shows traffic in four Russain cities: Moscow, Saint Petersburg, Yekaterinburg and Kiev. It is easy to use: just turn it on and choose the city. The application features scalable maps, and also shows the traffic congestion score and its tendency. The application requires active internet connection to function.
The app is free and avaliable via AppStore (link).

Leave a comment


reMail Search is a new application available for free in AppStore (link). It allows users to perform accurate searches in emails. There is an automatic completion of keywords in the search mode, so you can find neccesary emails very quickly.
reMail Search also works offline. The application, in fact, downloads e-mails keeping them in the cache on your iPhone / iPod Touch. reMail Search also works with all IMAP accounts, such as Gmail. The application is compatible with iPhone and iPod Touch, requires upgrading to firmware 2.2 and is localized in English.

Leave a comment