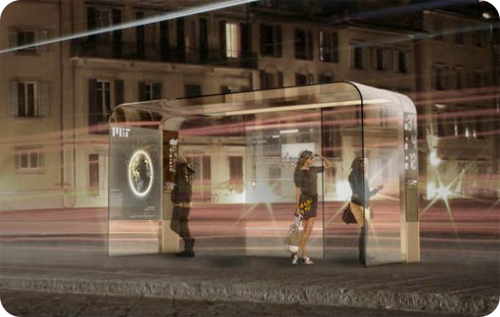 Next year in Florence users will experience new bus stations with an innovative touchscreen. The project is called EyeStop and is being conducted by the team of Professor Carlo Ratti.
Users will be able to obtain real-time information on weather conditions, urban traffic, waiting time for public transport. Bus stations will be able to interact with mobile phones! And this is not all: With a simple and intuitive graphic passengers can also check e-mail and share information. The entire system will be powered by solar energy and be able to communicate with the iPhone.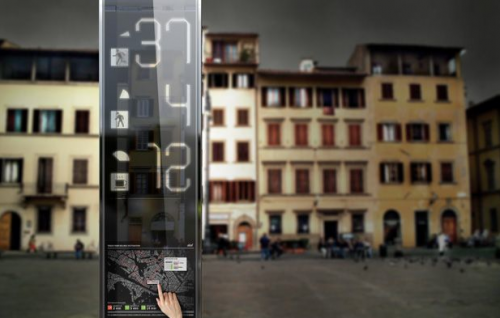 Leave a comment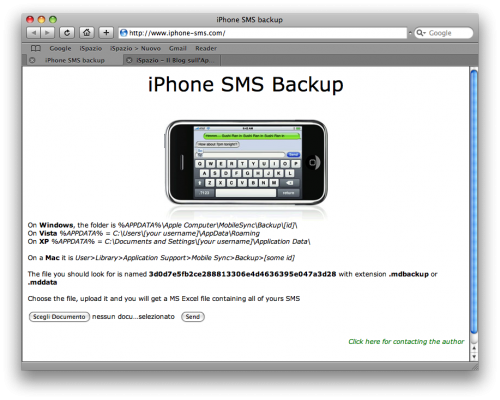 iPhone-SMS is a new website that allows you to export your SMS in an Excel file. Operation is quite simple and after performing these operations user can easily read the messages from a desktop computer.
To use the service connect to the site http://www.iphone-sms.com
via ispazio

Leave a comment, read comments [1]

There are new job announcements by Apple and in particular Apple seeks for experts in architecture with ARM NEON technology. As you can see in the image, the aim is to improve the iPhone OS subsystem that will lead to a better graphics acceleration, especially in multimedia applications.
The NEON technology is currently implemented only on the new processors ARMv7. The current iPhone uses ARMv6. This leads us to think that the next model of iPhone will have a new processor. But this will probably be next year..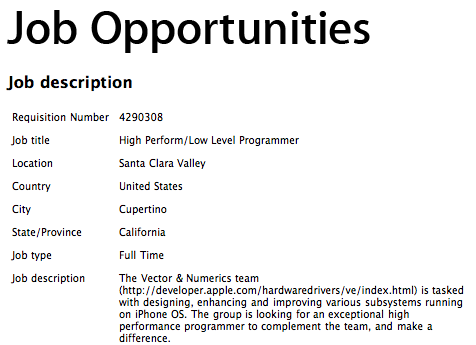 Leave a comment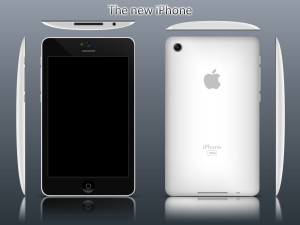 AppleiPhoneApps said they had received important messages from internal sources at Apple, for the next model of iPhone. Here's a whole list of characteristics:
P
r

ize and Models:
There will be two models of the iPhone: a 16 GB and another from 32GB. The 8gb model to be no longer marketed.
Prices remain the same as the 3G iPhone
Hardware & Design:
There will be a 3.2 MegaPixel camera
The screen is OLED-type (but not flexible)
Given the characteristics of these types of display, the battery will last longer
RAM and Process Power will double
FM receiver
The Apple logo will light up
Will add the magnetometer
They also said that the released date will be july 17 2009. I honestly do not think this are news. I think this is only a collection of all the rumors that have arrived in recent days. Obviously take the news as a rumor because it might be true as false.
via ispazio

Leave a comment

This is a new pinball game for iPhone called The Deep:

Leave a comment


iBlogeek has released a Mac OX utility called BackToUp that will help everyone back up their device. The program is pretty good and make the backup of:
Contacts
Text Messages (SMS)
Bookmarks and History of Safari
Call History
Calendar
Notes
Bookmarks and History of Maps
General Preferences (ringtone, etc)
Also, BackToUp can:
Create a backup
Restore a device using a backup
Erase backups
Update a backup
You can download BackToUp here.


Leave a comment


YXFlash is a new application that is available in Cydia and includes the codecs to display Xvid / DivX video files . We will not longer need to convert movies into a format supported by Apple. The converted videos do play a bit smoother due to hardware acceleration, but xvid videos are watchable, at least the ones I tested. The player also plays flash content if you have downloaded flash flv videos to your device. It is not a web based flash player, this does not play flash videos embedded on websites. In order to add the videos just upload them using iFunBox or iPhone Browser.
Here is the complete list of formats supported by the complete version:
Flash Video -> .flv
Mpeg4, H.264
Windows Media Video (.wmv)
Xvid/DivX (.avi)
MP4, MP3, AAC and Windows Media Audio
The free version offers support only for MP3 and DivX. You can download the application via Cydia in the BigBoss repository. The full version costs around $10.

Leave a comment

Leave a comment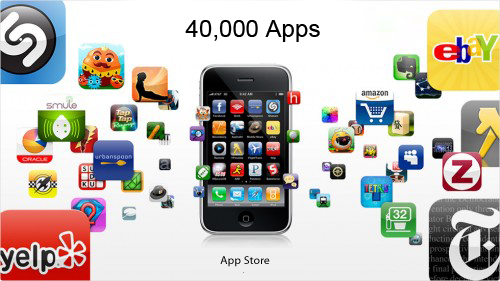 It seems that Apple has reached a new milestone with the App Store. It now has more than 40,000 applications available to download all in 10 months. There is no official news yet, but AppShopper found 43,154 applications of which 40,253 are currently available in the American Store, AppTism instead found 41.611 which we certainly reached and exceeded the 40,000.

Leave a comment

This game will appear soon in AppStore:

Leave a comment


This news comes directly from DataViz. Documents To Go application for iPhone has just been sent to Apple and it is awaiting approval. The software will allow you to view and edit Microsoft Office documents.
The cost should be less than $20.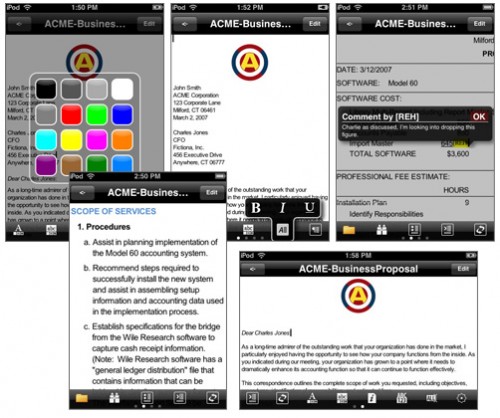 Leave a comment

Leave a comment

Backgrounder is an app that allows a user to run apps in a background. Since the last update the application makes available a process manager to monitor and manage the open applications.
In the new version svn.187 introduced the following changes:
Added the possibility to close / to force the closure / make a respring through a swipe on the applications;
It is no longer possible to initiate the process by the operator lockscreen;
Multiple instances of the processes are prevented
General improvement of the Code.

Leave a comment

Here's a short video that shows to all users (non-developers) that it is simple to use MMS and Tethering on the new 3.0 firmware.
via ispazio

Leave a comment

Apple filed a patent on a new accessory that will run the streaming video from iPhone to your TV. During the streaming user can control playback via a remote controller and the TV Out.

Leave a comment