Apple is developing its own Maps App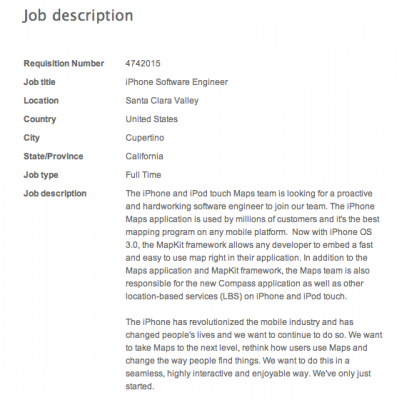 MacRumors has found a new Apple job listing seeking an iPhone Software Engineer to join the iPhone and iPod Touch Maps team with the goal of taking the iPhone's built-in Maps App to "the next level":
The iPhone has revolutionized the mobile industry and has changed people's lives and we want to continue to do so. We want to take Maps to the next level, rethink how users use Maps and change the way people find things. We want to do this in a seamless, highly interactive and enjoyable way. We've only just started.
Apple and Google have increasingly become competitors in the mobile space while Google's mapping data remains an integral part of the iPhone's Maps application. Add this job listing to previous news that Apple quietly acquired Placebase, a would-be Google Maps competitor, back in July, and it certainly looks like Apple is planning something interesting (and less dependent on Google) for future Maps.app updates. Rumors say this new app will have navigation functionality.

Leave a comment