16-Year-Old Kid to Get $1,000,000 following Steve Jobs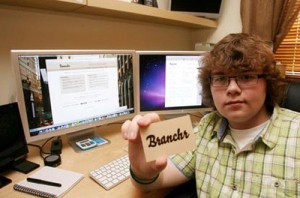 Here is the story of a 16-year-old boy whose name is Christian Owens. Being so young, he managed to make $1,000,000, following the steps of his mentor Steve Jobs who is Apple's CEO.
Being an unusual boy, he achieved this result after 2 years of work in the Internet. Read how he did it: "The British teenager living in Corby, Northamptonshire got his first computer at 7. Three years later, he got a Mac and started studying the principles of web design. In 2008 when he was 14, he founded his first company. It was a simple website that some people may know: Mac Bundle Box. The website was pretty good and corresponded to the principles of design and style oа Apple."
The website offered software at incredibly low prices, for example, an application that costs $ 400, here its price was just $ 50. This business has been developing and for the first two years of its work the website Mac Bundle Box has brought its owner $ 1,000,000. But he didn't stop and created another 17 websites for the iPhone and Android applications, and new company called Branchr ...

Leave a comment