Another Smartphone Launch from Apple - $99 iPhone 3GS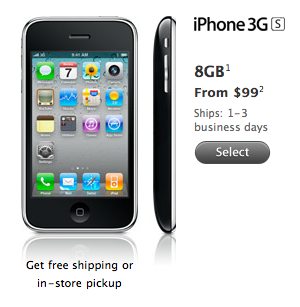 Although it was for the most part overshadowed by the hysteria over the new iPhone 4, Apple had another "new" launch last week – the $99 iPhone 3GS 8GB with iOS 4 support.
Well, obviously it's "last year's model", but just a couple of days ago it was still the best iPhone in the world quite capable of competing with much newer devices. Now with the help of iOS 4 iPhone 3GS supports folders, multitasking, and other cool features, and it's only for $99.
Sure, when you take into account the thousands of dollars you'll spend on actually using it in future, a couple of dollars don't make a great difference. Still, the magical $99 is a certain psychological barrier, and it's very appealing to the customers who want something more than just a mobile phone but aren't interested in a device packed with different features.
Users will also be delighted by the great number of accessories available for the new iPhone 3GS. It's certain that many more gear will shortly start appearing for the iPhone 4 as well, but for now 225,000 applications should be more than enough for a new owner of the iPhone 3GS. And there's another thing too. Unlike the iPhone 4, the iPhone 3GS is available in a lot of countries worldwide.
Though the iPhone 4 is probably much bigger news these past few weeks, the $99 iPhone 3GS 8GB certainly shouldn't be overlooked.

Leave a comment