Another Useful iPhone Tweak - Drunk Mode

Those who got drunk at least once in their life know that it is very difficult to overcome the temptation to write someone a message. It doesn't really important whom to text: your ex-girlfriend, boss or a close friend.
At the same time, if you're loaded, it might be very difficult to hit the required button on the iPhone screen. As a result, an addressee often receives a misspelled message, which lacks both sense and form. What is the way out? Drunk Mode tweak for iPhone that prevents you from sending iMessages while you're dead drunk.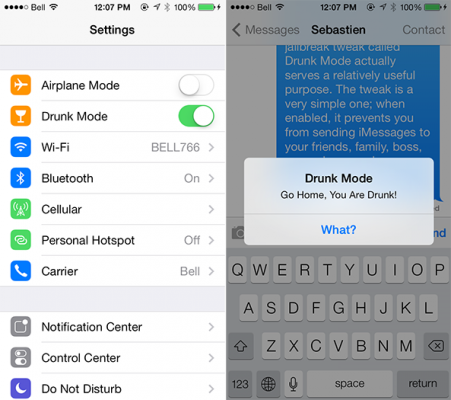 Here's how the tweak works (via iDownloadBlog):
Drunk Mode adds a toggle switch below Airplane Mode in the Settings app that proves easy to access on your Friday night out. When enabled, a notification box will pop up with the message "go home, you are drunk" when you attempt to message someone through the Messages app.
If you feel you might ever need this tweak, you can download it from the Cydia's BigBoss repo for free.

Leave a comment