Apple Adds Touch-Friendly Tweaks To Its Online Store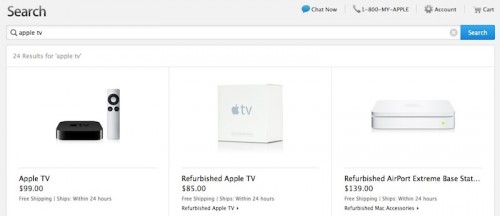 Apple today added a few minor improvements to its online store, making its easier to navigate the service on touchscreen devices such as iPad and iPhone.
One tweak involves a sliding navigation bar for shopping categories. Once a user selects one of the main shopping categories (iPod, Mac, iPhone, iPad,) from the main store page, the navigation bar on the category page showing different products and other topics related to that category can now be easily slid back and forth. Users working on non-touch devices can slide the navigation bar by clicking on arrows at each end.

A second tweak involves product search results that previously had been displayed as lists of items. Now results are displayed in a grid that allows for easy tapping on touchscreen devices. Users of non-touch devices will see arrows displayed on either side of each image of the product allowing them to view all associated images without having to open the product pages.
Apple's tweaks should significantly improve the user experience on the iPad, where the company does not have a dedicated app for the store and where the large screen can take maximum advantage of the grid-based search results.

Leave a comment