Apple Claims It Created Or Supported 514,000 Jobs In The U.S.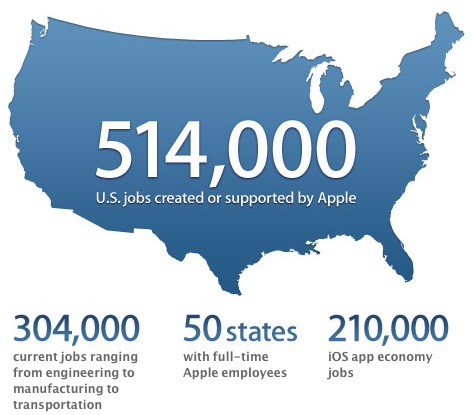 In recent years Apple has come under increasing criticism for manufacturing its products outside the U.S., with a number of commentators believing that Apple should try to shift more jobs to the U.S. However, as AllThingsD notes, Apple has now become more public on its domestic impact by creating a new page on its website claiming the company is directly or indirectly responsible for over 500,000 U.S. jobs.
The company split the 514,000 jobs into two groups: 304,000 jobs directly connected with Apple and its partners and 210,000 jobs are tied to "iOS app economy". The first group includes 47,000 company's employees and 257,000 employees at such companies as FedEx, Samsung, UPS and Corning, who are involved in the company's supply chain and its other businesses.
Instead of direct count of employees at Apple's business partners, the latter number is calculated based on U.S. "employment multipliers" applied to Apple's expenditures in the U.S.
The company also notes that 47,000 of its 70,000 employees are worked in the U.S. with 7,800 jobs having been created in 2011. More than 27,000 of its employees in the U.S. are part of its networks of 246 retail locations and the majority of them are full-time employees.
As for the support services, the company employees 7,700 U.S.- based AppleCare Advisors, acknowledging that it could reduce the cost of call centers by 50% if it would outsource them to countries like India, but it keeps the jobs in the U.S. in order to provide a better customer experience.
The company also notes that it has paid out more than $4 billion to developers since the launch of the App Store in 2008, creating a new industry that has added 210,000 new jobs in the U.S. economy.

Leave a comment