Apple Hunting For People To Beef Up 'New Product Security'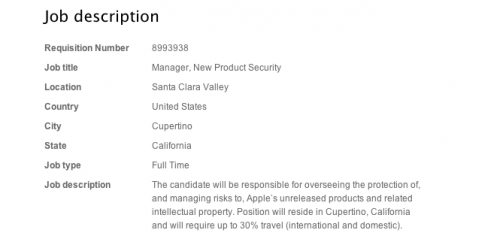 After amazing lost of the iPhone 5 prototype, Apple seems to start worry about their forthcoming devices, having posted a job listing for two positions that are titled "New Product Security Managers". Noteworthy to say, that these positions became available just a day after there appeared rumors claiming that Apple had lost the iPhone 5 prototype at a San Francisco bar. That's probably somewhat of a coincidence, but it is obvious that the company does its best to protect future products and its intellectual property, describing the new jobs as follows:
The candidate will be responsible for overseeing the protection of, and managing risks to, Apple's unreleased products and related intellectual property. Position will reside in Cupertino, California and will require up to 30% travel (international and domestic). The individual will collaborate with other security managers by contributing to, and managing execution of, strategic initiatives set forth by Director, Global Security.

Leave a comment