Apple Increased the Shipping Time of 11.6-inch MacBook Air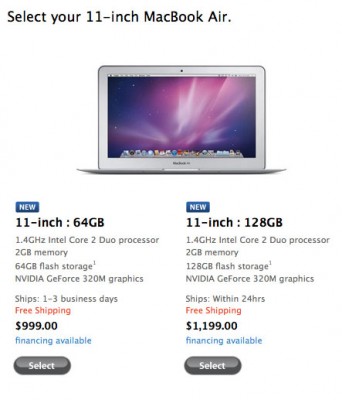 As you remember, last week Apple released new lineup of MacBook Airs, which are now available for order on the company's site. At the start every model had been shipped within 24 hours.
But from this day Apple shows shipping time for new orders of the $999 11.6-inch MacBook Air from 1 to 3 business days, which leads to a thought that the demand for the entry-level Apple's netbook has been very high in the first days of sales.

Exploring the site we managed to conclude that any other notebook including the same 11.6-inch MacBook Air but with 128 GB of internal storage (which costs $1,199) still ships within 24 hours.
After the release of MacBook Airs lineup many analysts suggested that the sales will be very successful in the holiday quarter. The vice president of Concord Securities Mingchi Kuo thinks that 60% of MacBook Airs sales will be represented by the 11.6-inch model, and it looks like the delay in shipping confirms this thought.

Leave a comment