Apple overtakes Nokia in China as iPhone brand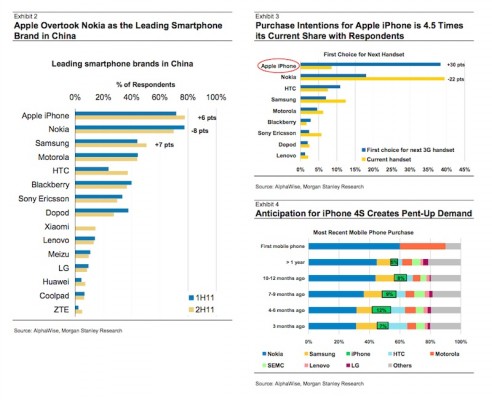 Chinese customers prefer to buy Apple's iPhone than Nokia's smartphones, according a report published by the investment bank Morgan Stanley. As more than a third of 2,050 surveyed urban Chinese mobile phone users express a preference for iPhone, twice that for Nokia's models.
Apple presence on Chinese smartphone market grew significantly in 2011. Not surprisingly that over fiscal 2011 the company managed to earned as many as $13 billion, comparing with $3 billion in fiscal year 2010. Morgan Stanley says it believes "China could surpass the US as Apple's largest market in about three years, adding nearly $30 billion more per year to the top-line along the way." The firm notes that sales of iPhones are also driving purchases of related Apple products, noting that Mac use is nearly four times higher among iPhone users, where Mac user share jumps to 35 percent from the standard 9 percent of the general population.
Morgan Stanley's survey demonstrates that Apple increased its share by 6 percentage points to reach 34 percent of planned purchases in the region. Nokia dropped 8 percentage points to make up just 16 percent of the nation's planned purchases.

Leave a comment