Apple Proposed A Glass-Roofed Store in Santa Monica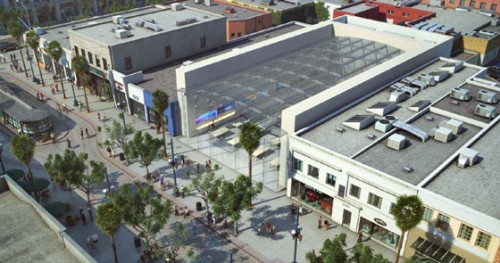 Tonight at the Planning Commission of Santo Monica, California, Apple is said to have proposed building of a new Apple Retail Store on the Third Street Promenade of the city. As Curbed notes, the proposal was made by an unnamed retailer. He wants to build 8.084 square foot retail store in the place where three story Borders Bookstore is currently situated.
The applicant is listed as ASB/Blatteis Promenade Holdings, but the images (above and below) clearly demonstrate that this is the project of Apple Retail Store.
The proposed project (PDF) is a 34-foot high, single-story retail store that is covered with a transparent glass ceiling. The front part will be completely glass that will protrude from side walls paneled with stone. Also it includes a 5,210 square foot basement.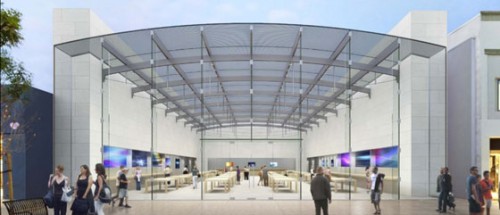 The applicant also wants to launch a transportation program for encoaraging employees to use alternative modes of transportation to travel to and from the store. Bicycle reimbursement subsidy of $20/month and monthly transit subsidy of $100 as well as bicycle parking in the basement will be available to full-time employees.
Apple already has its retail store on Third Street Promenade in Santa Monica, but it is said to be very crowded during weekends, so this project is likely planned to replace the existing store.

Leave a comment