Apple Researching Integrated Speaker for iPod Nano and Shuffle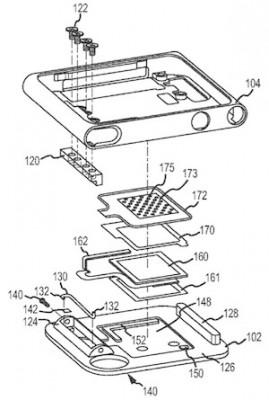 Patently Apple posted a new Apple's patent application that describes integration of a speaker into the clip of the iPod nano or iPod shuffle and how a small domed or dimpled cover over the speaker could be designed to produce specific acoustic effects.
In some embodiments, the cavity size may be shaped to create a particular frequency response or to otherwise influence the sound produced by the acoustical element. In some embodiments, the interior surface of the cavity may be modified to increase the size of the cavity, to control the frequency response of the cavity, modify the amount of air displaceable by movement of the diaphragm of the acoustical element, and/or to direct sound waves within the cavity and/or out of the cavity. The shape of the surface may be configured to resonate at a certain desired frequency or frequency range that is desired based on its shape. For example, one or more indentations in the surface may be provided to increase the size of the cavity and/or control the frequency response of the cavity. Generally, the larger the size of the cavity, the lower the frequency that may be resonant within the cavity. In some embodiments, holes may be provided in the surface to adjust the frequency response.
A speaker in the iPod's clip would require connection to the main portion of the device, according to the patent application. Apple also describes how wires could be routed alongside or through the hinge block. The application doesn't offer any specific use for a speaker, but it is obvious that the extremely thin nature of the speaker would limit the sound quality. Nevertheless, the speaker could provide some simple sounds such as clicks and beeps as feedback for user input on the device, although more complex audio could also be generated.

Leave a comment