Apple Seeds Pre-Release Build of OS X Mavericks 10.9.2 to Developers

Apple has seeded a pre-release build of OS X Mavericks 10.9.2 to developers for testing. What that means is that the official release of the new OS X version is just around the corner. And that's great, I believe.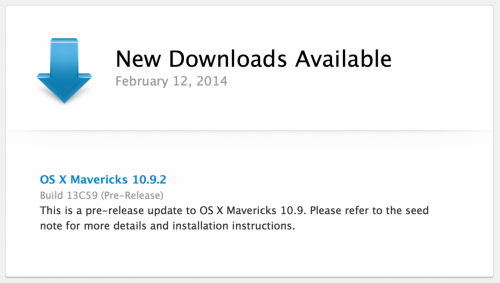 The pre-release update to OS X Mavericks 10.9.2 has a build number 13C59 and contains minor improvements and bug fixes. The focus areas remain the same. As in the previous betas, Apple has asked developers to pay attention to Mail, Messages, Graphics Drivers, VoiceOver, VPN and SMB2.
The very first OS X 10.9.2 beta was released in December 2013 and had a build number 13C32. It brought FaceTime Audio feature and the ability to block FaceTime and iMessage users directly from your Mac.
If you have a developer account, you can download the new OS X Mavericks version from Apple's developer portal or simply via Software Update right now.

Leave a comment