Apple Unlikely to Use Liquidmetal Alloys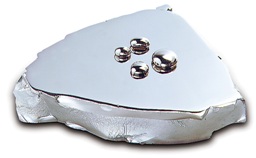 Dr. Atakan Peker, who discovered and developed the formulation that later became Liquidmetal, said in an interview with Business Insider that Apple would need investment of $300 million to $500 million and over three years to ready the technology for mass-production of its electronic devices. He also mentioned that there is "no suitable manufacturing infrastructure yet to take full advantage of this alloy technology."
"This is a technology that has yet to be matured and perfected both in manufacturing process and application development," Peker said. "I should note that this is a completely new and different metal technology."
It is unlikely that MacBook casings will be made from the material in the near future, however there is a possibility that small operational parts such as hinges and brackets can be produced.
Peker suggests that the metal will be used to replace existing components, followed by a "breakthrough product" which can only be made by harnessing the alloy's special qualities.
"Such product will likely bring an innovative user interface and industrial design together, and will also be very difficult to copy or duplicate with other material technologies," Peker said.

Leave a comment