Apple wants to reduce Bluetooth power consumption in portable devices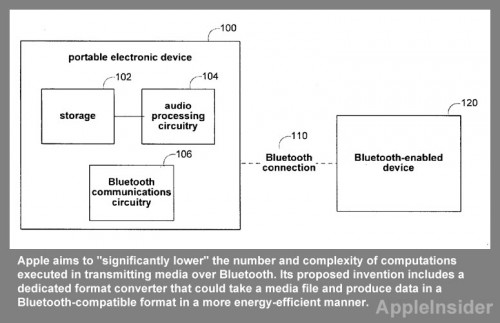 Apple is still interested in improving Bluetooth power consumption in its portable devices when converting streaming media to a compatible format. This week AppleInsider discovered a patent application filed in December of 2008. The application is entitled "Data Format Conversion for Electronic Devices" and notes that converting data to a new format can be a power-hungry process.
"The format conversion performed by the portable electronic device may quickly drain the energy stored in its battery," Apple's filing reads. "Therefore, it would be desirable to provide an energy-efficient technique for converting data to a Bluetooth-compatible format."
Apple's solution aims to "significantly lower" the number and complexity of computations executed in transmitting media over Bluetooth. Its proposed invention includes a dedicated format converter.  This format converter could produce data in a Bluetooth-compatible format in a more energy-efficient manner.
"The format converter can convert each data stream into a format compatible with Bluetooth," the application states. "For AAC-encoded files, for example, the format converters can convert the MDCT-based data into a format that uses a different frequency transform-based compression algorithm (e.g., DCT-based algorithm).
"Then... the format converter can assemble the transformed data streams into frames of appropriate sizes for Bluetooth transmission, and may perform other functions necessary to prepare the transformed data streams for transmission over a Bluetooth link."

Leave a comment