Apple's iPad has 84% satisfaction rating, 17% of users install 80+ apps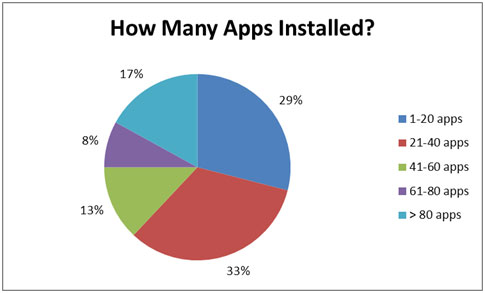 The new study entitled iPad Usage Patterns On-the-Go and at Work from the Software Usability Research Laboratory was highlighted on Thursday by Jim Dalrymple of The Loop. A new survey has found that an overwhelming majority of iPad owners (83.65 percent) were satisfied with the iPad, while 62 percent ranked Apple's device as "excellent," 10 percent said "best imaginable," and 21 percent said "good."
The survey was also aimed at finding out how people are using Apple's tablet. 52 percent of participants reported they carry their iPad only when traveling, while 21 percent carry their iPad every time they go out, and 17 percent only carry it on them for work.
As for a number of applications downloaded on an iPad, the survey found that 17 percent of respondents have more than 80 applications on their iPad. Another 29 percent said they have between 1 and 20 applications installed, while 33 percent have 21 to 40 applications. But only 35 percent use between 1 and 5 applications regularly, while 40 percent frequently use between 6 and 10. Just 4 percent said they regularly use more than 20 applications.
ore often people use their iPad is the living room, followed by the bedroom, kitchen and dining room. The most common use is browsing the Web, followed by checking e-mail, reading news, and social networking.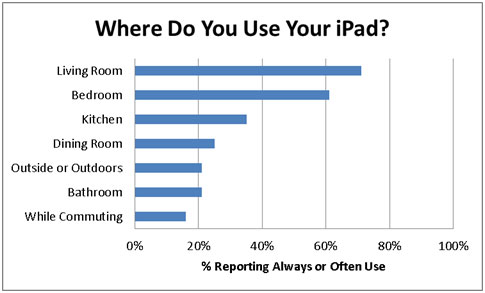 Leave a comment