Apple's most visited retail stores are in China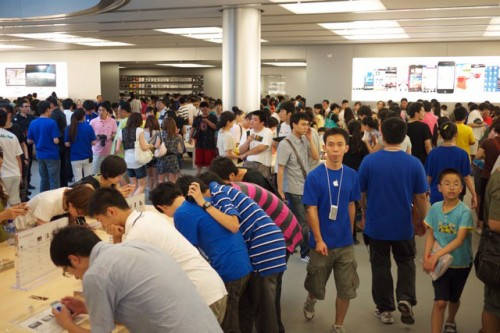 As we reported earlier, Apple earned $3.85 billion due to its retail business in the first quarter of 2011. But it is interesting that the highest revenue was brought by four retail stores situated in China. That was revealed by Peter Oppenheimer, who is an Apple Chief Financial Officer, on Tuesday's conference call.
"Our four stores in China were, on average, our highest traffic and our highest revenue stores in the world".

It is also known that Macs are pretty popular in the U.S., but Apple earned most money for it on the international market, and particularly in China, where people buy them most of all.
First international store was opened by Apple in China, and though now there are only four stores, the Cupertino's company is going to increase this number to 25 stores due to its aggresive expanding strategy. That was also recalled by Tim Cook on the conference call.
"We, several years ago, indentified China as our top priority. And we put enormous energy into China. And the results of that have been absolutely staggering."
It is also still unknown whether CDMA-enabled iPhone will by offered by China's local carrier China Unicom, but Cook said Apple is interested in further expanding of the new version of its handset.
"I can guarantee you that we always looking at opportunities to grow. Of course, in the very short-term, I would also remind you that we'e constrained on iPhone 4, and we're working around the clock to get as many of these out to our existing partners as we can".
Latest China store was opened this July in Shanghai.

Leave a comment