Apple's Smartphones Occupy Nearly Half of US Market

According to the latest research conducted by analytics firm comScore, Apple's smartphones occupy nearly a half of the US market. Samsung, the main rival of the company from Cupertino, is currently on the second place. Its share continues to grow, well, just like the Apple's one.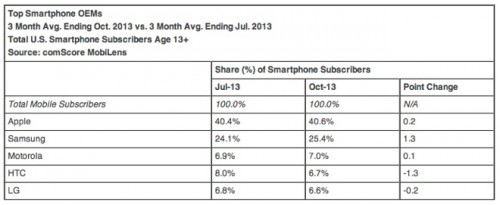 But let's take a look at some actual figures. As noted by AppleInsider,
Market research firm comScore released the results of its MobiLens survey on Thursday, showing moderate gains for Apple in the U.S., with a 0.2 percent jump from July. At the end of October, 40.6 percent of the country's smartphone owners used an iPhone.

Samsung came in second with 25.4 percent of the market, a 1.3 percent boost from three months ago. Out of the top-five smartphone manufacturers, the Korean company showed the largest rise over the period.
As to the other manufacturers from Top-5 rating, namely, Motorola, HTC and LG, they occupy 7.0%, 6.7%, 6.6% of the US smartphone market respectively.

Leave a comment