Blood Glucose Meter For iPhone Closer Than Ever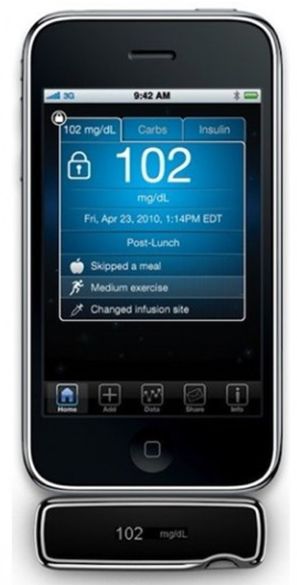 In the US alone, 17.9 million people suffer from diabetes. In the entire world, at least 171 million have to deal with various aspects of the disease. One such aspect involves testing one's blood glucose level. For some time now, we've been hearing whispers of an iPhone connected blood glucose monitor: a device which could, quite literally, change the lives of millions.
The pharmaceutical company Sanofi Aventis has recently announced the iBGStar Blood Glucose Meter – a blood glucose meter which ingeniously plugs directly into your iPhone's Dock Connector port.
Currently, the device is about to be submitted to the U.S. Food and Drug Administration (FDA). While exact information on the blood glucose meter is hazy, we do know that it works with an app similar to the free Wavesense Diabetes Manager, which is available in the App Store now. Users will be able to test their blood glucose level using the device and the application. Additionally, they'll be able to use the app to email a physician if they have any questions regarding their illness.

Leave a comment