Closeup Photos Show Clear Difference in Thickness Between iPhone 5 and 4S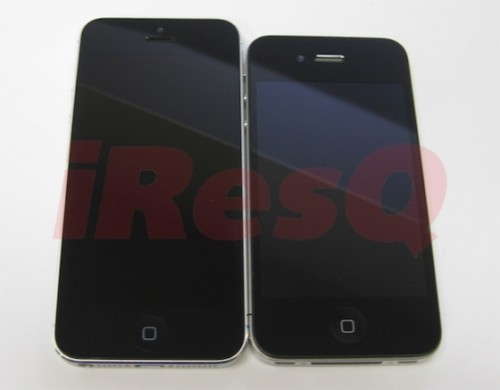 Repair firm iResQ has posted side-by-side comparison shots of the purported next-generation iPhone and the iPhone 4S. The photo shows that the iPhone 5 is indeed substantially thinner than the iPhone 4S. Apple's move toward thinner body components and a thinner distribution of internal components enabled by the larger surface area due to the 4-inch screen of the iPhone 5 have allowed the company to substantially shrink the device's overall thickness.
If the set of images showing what is claimed to be a "fully assembled" iPhone 5 are accurate, it appears that the metal portion of the new device is a bit larger than its predecessor, however the expected in-cell display makes up for the size increase by being snugly integrated into the phone's casing, resulting in an overall slimmer profile.

Apple is widely thought to be moving to a larger 4-inch screen, meaning the chassis should have a bit more wiggle room in terms of internal volume. The display, along with advanced wireless communications chips, will require a larger battery, possibly prompting engineers to reshuffle the component layout.
Previous reports have pegged the iPhone 5 thickness at 7.6 mm, 18% thinner than the iPhone 4S at 9.3 mm,  pointed to a slightly revamped logic board with possible space-saving nano-SIM card tray, a relocated headphone jack, proximity sensor and front-facing camera, as well as a number of flex cable redesigns.



Leave a comment, read comments [1]