First iMacs 2011 Benchmarks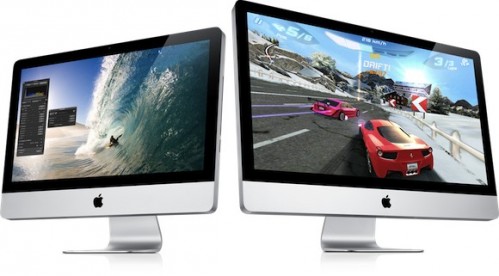 The first iMac 2011 benchmarks already appeared on Geekbench's website, revealing good performances for the new machines with results sometimes (depending on the model) above 2010 Mac Pros and early-2011 MacBook Pros.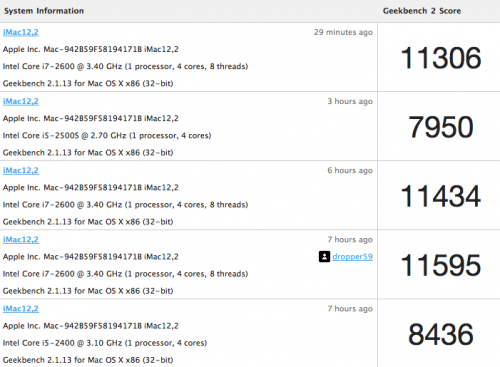 Below you'll find screenshot that allows you to compare the first results above with a list of official old Mac benchmarks that include Mac Pros, early-2011 MacBook Pros and a mid-2010 iMac: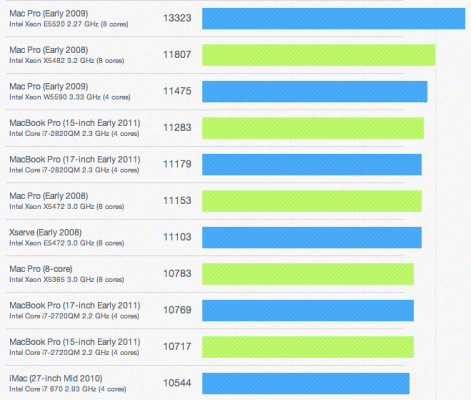 Macworld also tested a new 27-inch Core i5 iMac with 3.1GHz processor. This machine was 16% faster than the old high-end iMac model in overall usage, while it was 22% faster than the old iMac in an iTunes.
In terms of overall performance, the new standard 3.1GHz Core i5 iMac outperformed the 3.6GHz 2010 BTO iMac by 14 percent. In applications that make efficient use of four processors (Cinebench, Mathematica, and Handbrake), the new iMac was dominant, finishing 35 percent, 67 percent and 42 percent faster, respectively. Compared to the 15-inch 2.2GHz Core i7 quad core MacBook Pro, the new 3.1GHz Core i5 iMac was 10 percent faster overall, and a few seconds faster in almost all of our individual application tests.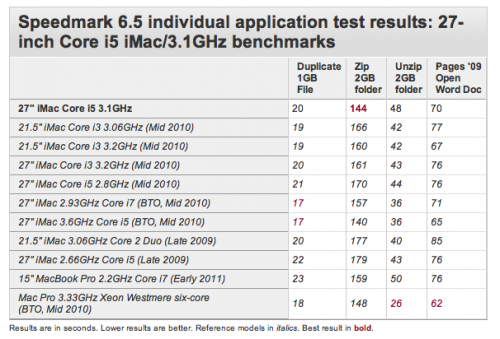 Leave a comment