Foxconn Workers to Sign 'Anti-Suicide Pledge'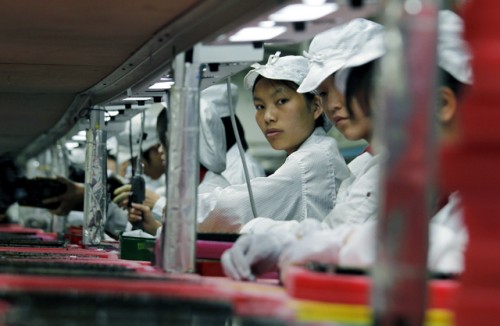 Harsh working conditions at the Foxconn factory in Shenzhen, China, have long been the center of attention. A recent investigation at the Foxconn factory revealed that employee overtime was excessively above the legal limit of 36 hours per month. One employee payslip showed 98 hours of overtime in just one month. Workers are banned from talking to their colleagues and must stand for the duration of their 12 hour shifts.
At least 14 Foxconn workers have committed suicide in the last 16 months. English tabloid newspaper the Daily Mail is reporting that employees working for Foxconn, assembler of many Apple products, are being forced to sign an 'anti-suicide pledge'. Under the pledge, employees must not attempt to kill themselves, and if they do, their families can only seek the minimum in damages.
While translations may vary, an excerpt from Foxconn's pledge reads:
In the event of non-accidental injuries (including suicide, self mutilation, etc.), I agree that the company has acted properly in accordance with relevant laws and regulations, and will not sue the company, bring excessive demands, take drastic actions that would damage the company's reputation or cause trouble that would hurt normal operations.

Leave a comment