Google Play Nearly Matching iOS App Store In Download Volume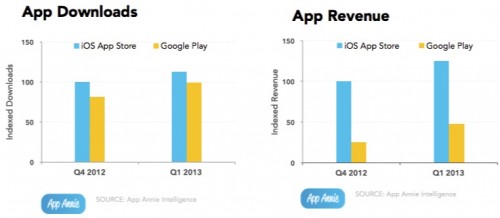 Today App Annie published its latest data on mobile app downloads, noting that continued momentum for Android apps has allowed Google Play to nearly match iOS App Store in download volume. However, while Google Play is making significant strides in generating profits for developers from app downloads, the App Store retained its strong lead in monetization, indicating that, in general, iOS device users remain more willing to pay for apps than Android users. The report said:
"From Q4 2012 to Q1 2013, iOS App Store quarterly revenue grew by roughly one-quarter. Meanwhile, Google Play app revenue grew by roughly 90%. While Google Play had the higher growth rate, the iOS App Store gained more in absolute revenue and earned about 2.6x that of Google Play in Q1".

Leave a comment, read comments [1]