Gresso classies up the iPad with 18k gold logo and ancient wood case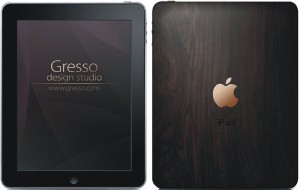 Gresso, the Russian company, has modded the Apple iPad with a back cover made of the 200-year-old extremely luxurious African Blackwood combined with 18K gold.
Absolute combination of the latest Apple technologies and unique design Gresso.
Housing iPad is framed in 200-year-old African Blackwood (African Blackwood), the material that became hallmark Gresso. As the most valuable tree in the world, ebony prized for centuries for their unique qualities, as well as a gorgeous, rich, totally black. High strength grade African Blackwood is achieved due to its specific natural features and unique processing technology, patented by Gresso. Two similar iPad does not exist, just as there are no two identical trees.
Strangely, in spite of its extravagant constituent materials, this design is a very restrained, and even classy. iPad Gresso went on sale on the eve of the 2011. Pricing information is not yet available.

Leave a comment