Holiday sales of Apple's products are stronger than expected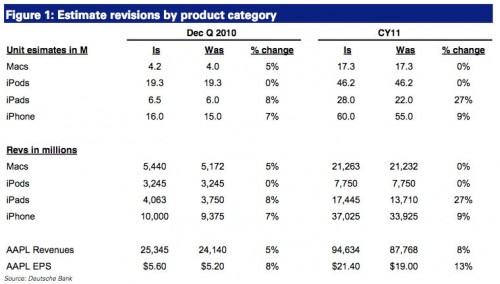 Another note to investors was posted by Chris Whitmore from Deutsche Bank, where he indicates that Apple had sold more iPads and Macs than it was previously expected. The demand for the iPhone didn't also slow down, though rumors on CDMA-enabled version of the device could cause that.
These holidays Deutsche Bank visited more than fifty stores to find that there were lines and crowds of people who would like to buy the latest iPhone, and Apple was prepared for that.

iPad sales also forced Whitmore to revise its estimates and now he is assured that the fourth quarter of 2010 will bring 6.5 million iPads sold. He also estimated that Apple will sell 28 million tablets in this year, while his previous estimate was 22 million.
It was also found that 32 GB iPad with 3G and 11,6-inch MacBook Air with attractive price of $999 became the most popular Apple devices.
"Apple continues to benefit from the strongest product offering in its history and the strong double-barreled product cycle is driving massive global demand for iPads and iPhones. Both categories are benefiting from additional carriers, international expansion, and limited competition."
Chris Whitmore reestimated that 16 million iPhones will be sold in the holiday period (up from 15 million) and 60 million will be sold in calendar year 2011 (up from 55).
In these estimates Chris Whitmore doesn't take into consideration the appearance of Verizon iPhone, which is rumored to appear in early 2011. However, he believes that support of CDMA technology can bring 5-7 million users more.
"We expect a CDMA based iPhone to be a significant positive for AAPL with limited cannibalization at AT&T. Our DB colleague Brett Feldman, who covers Telecom Services, estimates that Verizon will add roughly 15M iPhones in 2011 with 6M cannibalized from AT&T".
Meanwhile, analysts from Wall Street already think this quarter will become another record breaking period for Apple. Whether its true or not we'll know on Jan. 18, when the company will report its earnings.

Leave a comment