In China Apple Sees The Highest Growth, Revenue Is Up 67%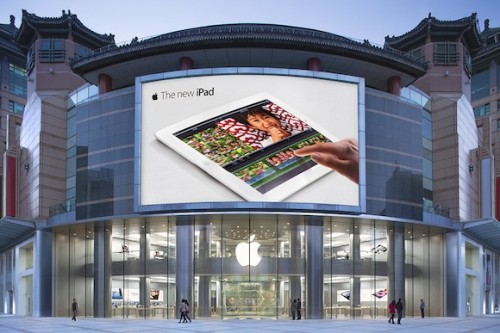 During today's 1Q 2013 earnings call, Peter Oppenheimer said that Apple focused on creating a new operating segment for Greater China, which includes Hong Kong, Taiwan and Mainland China. He said:
"We have established a new operating segment for China, given the contribution of that region to our business".
Apple has adjusted how it reports financial results for separate geographic regions due to the considerable sales of both software and hardware in China over the last two years. In the last quarter, Apple's revenue in China grew by 67% and sales in this country accounted for $6.8 billion of Apple's total revenue.
While in the first quarter Apple saw strong overall growth in iPhone sales, in China the company experienced the most significant sales growth, which is up over 100% as compared to a year-ago quarter.
"In terms of the geographic distribution, we saw our highest growth in China. It was into the triple digits, which was higher than the market there. We're extremely pleased.

It is clear that China is our second largest region. And there is a lot of potential there".
During 2012 Apple opened four new retail stores in the Greater China, and when asked about China Tim Cook said that Apple plans to expand on the 11 stores in China, saying that the company had "many more" retail stores to open.

Leave a comment