iOS 4.2 GM has updated multitasking bar and MobileMe login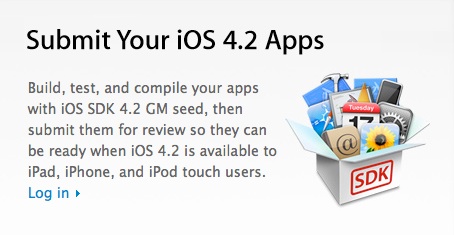 As we reported earlier today, yesterday Apple released the Golden Master version of iOS 4.2 to developers, thus making the official update closer to the public release, which will happen in November, according to Steve Jobs.
MacRumors has already studied this release and found next peculiarities in the newest version of iOS 4.2:

Multi-tasking bar will include an Airplay button and a volume slider in addition to orientation lock button, brightness slider, playback controls and iPod icon.

MobileMe account setup settings will have an Apple ID login instead of MobileMe login. It is currently unknown, whether Apple will only allow iOS users to have access to some features of MobileMe service or completely integrate MobileMe account with Apple ID.
There is another noteworthy moment in the release of 4.2. Previously Apple allowed developers to submit their apps only for existing version of iOS, but yesterday the company officially notified that they can «build, test, and compile apps using the iOS SDK 4.2 GM seed, then submit them for review so they can be ready when iOS 4.2 is available to iPad, iPhone, and iPod touch users» (as you can see on the screeshot at the top). That makes iOS 4.2 in some kind unique, as it will be the first version which will run on both Apple's tablets and handsets.

Leave a comment