iOS Moved Android Into Second Spot In US Smartphone Market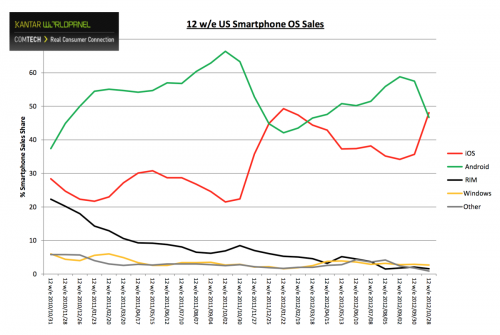 By virtue of iPhone 5 sales, iOS reached the top spot on the smartphone market in the United States, according to research company Kantar Worldpanel Comtech. According to the report covering smartphone sales over the 12-week period ending October 28, iOS accounts for 48.1% of the smartphone market in the U.S (up 25% year-over-year) and has officially moved Android into second spot.
Android was down from 63.3% share of the market over the same 12 weeks last year to 46.7% today. As for other countries, you can see from the chart below that Android dominates in most other markets, including: 81.7% in Spain, 54.2% in Britain and 73.9 in Germany.
Dominic Sunnebo from Kantar Worldpanel ComTech, said:
"The last time we saw iOS overtake Android in the US was when the iPhone 4S was released and Apple managed to retain its lead for three consecutive periods. This time we predict that Apple will beat its previous high of 49.3% and achieve its highest ever share of the US smartphone market within the next two periods."
The report also shows that 62% of iPhone 5 sales came from Apple device owners upgrading and 13% of sales came from Android switchers.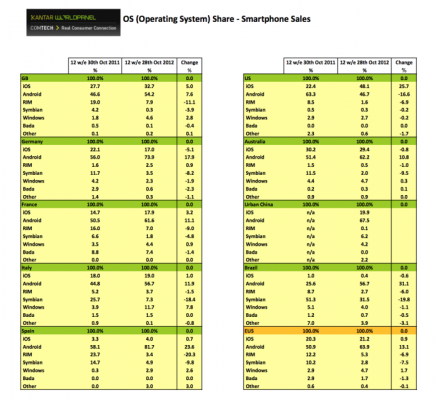 Leave a comment