iOS vs Android Sales: Facts, Figures and Most Popular Retailers

iOS market share has grown over the past year. According to the latest Kantar research, by the end of the June quarter, Apple had 42.5% of the U.S. mobile device market, while Google with its Android - 51.5%.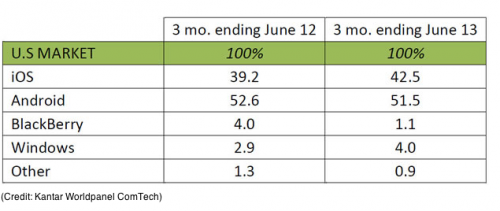 Yes, Android is still in the lead, however, this platform lost 1.1% of customers compared to the last year. At the same time, iOS strengthened its position as in June, 2012 its share on the market was 39.2% - the difference with current number makes a little more than 3%.
Kantar has also polled nearly 240.000 customers to determine the carrier sales leader. Nothing unusual here - Verizon remains the best American iPhone reseller. The second place is occupied by AT&T with 39% of carrier sales. Finally, Sprint and T-Mobile have taken the third and the fourth places respectively with 10% and 8% of Apple smartphones sold.
Android sells about 35% of its devices on the Verizon network 17% on Sprint, 16% on AT&T and 13% on T-Mobile.
Looks like Apple needs another year to beat Google Android.

Leave a comment