iPad Is Now Available in AT&T and Verizon stores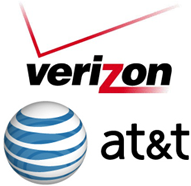 Today two largest wireless carriers in the USA started offering the iPad in their brick-and-mortar stores. The date of Oct. 28 was announced few weeks earlier. As you remember, AT&T will be selling all 3G-enabled iPads with standard prices, and Verizon will only sell Wi-Fi iPads but with MiFi 2200 Intelligent Mobile Hotspot routers, and the bundles will have the same cost as 3G-enabled models.
For information on data plans read this post.
Verizon's sale of Apple's iPad for the holidays became the reason to steam the rumors about CDMA version of the iPhone that will be compatible with its network and must supposedly appear in early 2011.

Leave a comment