iPad May Get New Super-High Resolution In Its Third Version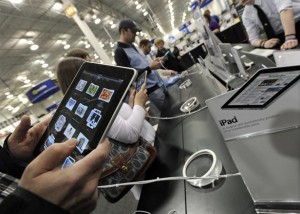 As you may remember, previously we reported that rumor has it the iPad may get a new super-high resolution of 2,048x1,536 for its display. Now this information became more exact thanks to IDC analyst Tom Mainelli, who unveiled new details in his interview to PC World.
"Our sources say Apple has requested that manufacturers begin work on displays with that resolution for the iPad 3. [...] I don't believe anybody is ready to produce that resolution in volumes at this point. And Apple is going to require huge volumes for the iPad 2".

He also told that this year's tablet market will be 44.6 million-strong, and iPads of both first and second generations will take "the lion's share" of it.
Recently DigiTimes also mentioned that Apple may boost the iPad resolution, but the final decision has not been made at that moment.
Besides new display, it was expected that the new iPad will be thinner, faster, lighter, possibly equipped with a new CPU and multi-core graphics chip along with more drive space and memory and web conferencing camera for Facetime chats.

Leave a comment